Experience the summer ...
There is a lot to see in Innsbruck ...
The nearby trails along the river Inn will entice you for a stroll to the park areas and playgrounds. The old neighborhood of Hoetting around our hotel is also worth seeing with its narrow streets and old buildings at the very edge of the Nordkette mountain range. Restaurants and bars for every taste are located around our hotel. The old town of Innsbruck offers many cultural, culinary and entertaining attractions and is only walking distance away.

The Karwendel mountain range, which is close to the hotel, offers several excellent hiking tours. Half way to the Hungerburg is the Alpen Zoo, which is home to many various alpine animals. The Hungerburg itself is a popular hiking destination as well as a starting point for many more hikes. The Rechenhof – from Hungerburg in direction Arzl – is also a popular destination on a sunny hillside. A wonderful hike through the forest is the stretch from the Hungerburg towards the west, over the Gramartboden up to the Chapel Höttinger Bild. Tracks of various levels in difficulty lead to many alpine pastures with accompanying huts.

Mountainbikers reach the mountains as easily from Innsbruck. Especially the Hoettinger alm is a popular destination for mountain cyclist and it offers a track that connects with a cross country route heading back down the valley for those bold enough to handle it! The seegrube is also easy to reach by foot or by cable car. This region is well known in winter as the Nordpark, offering ski and snowboard fun for all winter fans.

Innsbruck also offers an interesting nightlife for those visitors who are more outgoing at night than during the day. The Old Town for example or the so called "Viaduktbögen-Meile" are definitely worth a visit. Discos, cinemas, the casino, several different types of stages offering theatrical plays and of course the Tiroler Landestheater will surely make your evenings and nights a pleasant memory.
WELCOME CARD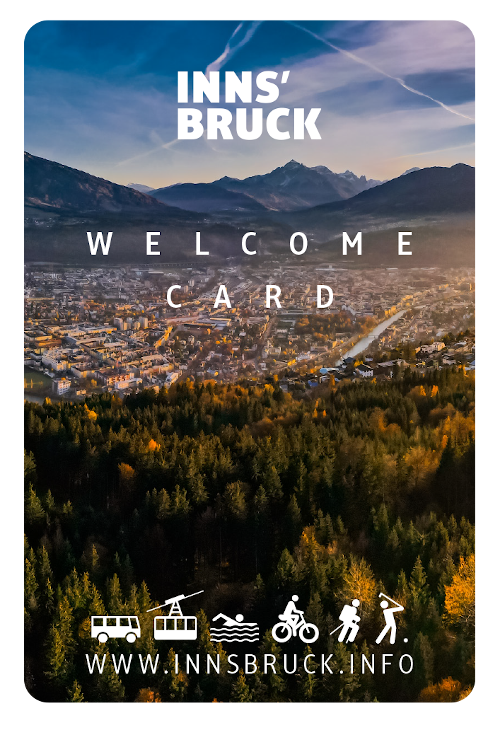 Our hotel is a Welcome Card partner hotel. With bookings of two nights and more various services and benefits are included free of charge during your stay.

The guest card for visitors gives you free or discounted admission to numerous leisure activities as well as journeys on public transport, lifts and cable cars. Cultural attractions such as museums are also included. Our Welcome Card is the ideal companion for sightseeing, ski holidays, summer holidays and hiking trips.